Voyage en train is the best form of transportation in Europe, especially between France and London. To travel throughout Europe, a train is the perfect mode of moving within cities and towns. It is relaxing, visually exciting, fast, and clean. Trains, tickets, popular routes and the France Rail Pass: Here is everything you need to know about how to discover France by rail.
France by Train: Short Info
France by Train – Short Info
Fastest trains
TGV (Train à grand vitesse)
Main train operators
 SNCF
Cheapest Ticket
OUIGO TGV Ticket from €19
Popular Routes

London to Paris
Amsterdam to Paris
Brussels to Paris
Lyon to Paris
Marseille to Paris
Bordeaux to Paris
Barcelona to Paris
An Introduction to France by Train
France is one of the best rail-connected countries in Europe. When you catch your rail train in Paris, you will reach great European cities. France has some of the fastest trains that link London, Marseille, Bordeaux, Paris, Strasbourg, including Germany, Spain, and Italy.
There is a station in every city in France. The only challenge a train station in presents, is that train tickets do not have which platform you will depart from. Platform information in France are posted a few minutes before departure.
The innovative high-speed trains in France have developed quickly since their introduction in 1981. France connects local and surrounding cities to its high-speed network system. Passengers are whisked to nearby countries, towns, and city stations in faster times than ever before.
If you want to discover more of Europe by train, read our full guide How to rail Europe or, when it comes to tickets, our guide to European Train Tickets.
TGV – the French High Speed Train
The high-speed trains in France are known as Thalys, Eurostar, and TGV (Train á Grande Vitesse). The TGV in France is one of the innovative state-sponsored (Société Nationale des Chemins de fer Français (SNCF)) high velocity rail services.
The TGV trains are capable of reaching speeds of 320 km/h (200 mph). The SNCF French railways are responsible for operating over 1400 train travel every day. Other SNCF rail services in France, includes the TER.
The French lightning speed TGV trains have been honored with consistent safety awards. Vacation planners and agents assure their clients that if you want to see as many Europe inspired locations as possible, SNCF train excursions are the best!
SNCF trains include amenities that include free onboard luggage storage, fun onboard bars, fast boarding, free SNCF seat reservations, and SNCF discounts when transportation tickets are purchased in advance.
The TGV transportation cars in France are recognizable by their elongated nose structure. TGV trains operate with spacious seating with rows of 3 seats with lots of leg room and a wide backspace. The TGV rail systems in France also feature a single and double-deck seating arrangement.
For example, Paris, France to Bordeaux is a comfortable single-deck high velocity train ride. TGV trains are one of the fastest rail forms of transportation in France. The future of the SNCF and TGV rail trains in France will be based on its technology. TGV rail treks in France will provide more space for passengers and introduce faster trains that are environmentally safe.
Ouigo and Inoui
The French train company SNCF offers two brands for TGV trains: Ouigo is the budget brand, Inoui offers more service, but is a little bit more expensive.
Ouigo
The Ouigo has been dedicated to inexpensive passenger transport since 2013. Since then, trains of the TGV type have connected Marne-la-Vallée, which is close to Paris, with south-eastern France. For example, you can look forward to a trip to Lyon. The offer was expanded at the end of 2015: SNCF now offers 50 connections via Ouigo, which also operate in western and northern France. The idea on which the concept is based comes from the area of ​​cheap air travel. The following principles of the reduced offer for cost savings apply:
A ticket is only sold online or via the app. A chore: As a passenger, you have to be at the train station 30 minutes before the journey because the ticket is checked when you board the train.
TGV trains only have second class and 2+2 or 3+1 seating. There is no dining car.
With a normal ticket, passengers are allowed to take a relatively small piece of luggage and a small piece of hand luggage. For everything else an extra charge has to be paid.
The service serves only a minimum of the usual. The contact form on Ouigo's website is the only way to get in touch (no phone number, no email address available).
Probably the biggest limitation is that you have to do without some of the usual, central train stations. The reason: Slightly remote stations charge lower usage fees.
Inoui
Inoui stands for another successful concept of SNCF: the TGV. The full name of the TGV is train à grand vitesse, meaning high-speed train. TGV stands for a type of train for which the Inoui brand was created in May 2017. (But there are also connections with a TGV marketed through Ouigo.) The TGV serves France, all neighboring countries (except Andorra), the Netherlands and Great Britain.
The SNCF passes are popular with French citizens and other passengers throughout Europe. The SNCF TGV, Eurostar, Thalys train tickets provide passengers passes to regional, country, and continent-wide cities.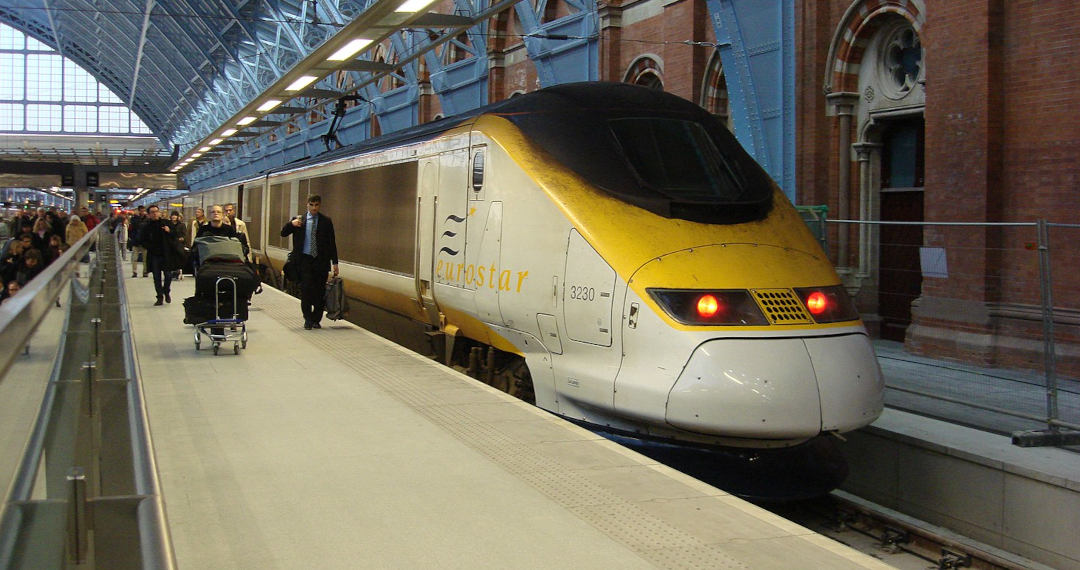 Eurostar and Thalys
Eurostar and Thalys will merger end of 2023.
Eurostar
Traveling to Disneyland Paris or the French Alps is easy on the Eurostar train line. It is another SNCF high-speed train that travels between London, Paris, Belgium, and the Netherlands. The Eurostar trains in France connects with TGV and Thalys route services. Also, Eurostar and other SNCF/TGV trains provide mobility services if needed by contacting them directly.
Eurostar operates with tickets that include:
Standard: Standard seating out of a station in France is really a 2nd class category. You would never know it because it offers air conditioning, cushioned seating, snack tables, and free Wi Fi. There are café-styled bars for purchasing food and drinks or you can bring your own refreshments.
Standard Premier: Standard Premier is first class seating. Food and alcohol are refreshments offered at your seat. There is WiFi, USB Ports, sockets, and seats that recline with a reading light and a small table that folds down, i.e., airline tables.
siness Premier: A Business Premier train ticket provides similar first-class amenities. Complimentary hot meals are served with champagne, wine, beer, or soft drinks served at your seat. There is Wi Fi, USB Ports, electrical sockets, reclining seats, and a drop-down table.
Thalys High-Speed Trains
Just this year In September 2020, the Thalys and Eurostar rail lines merged together. Sharing the Eurostar cross-country transit line and route destinations is the Thalys high-speed trains. This neophyte high-speed rail line trips run at 300 km per hour.
This swift train system connects to several Western European cities like Belgium, Holland, Germany, Brussels, Cologne, and Amsterdam. Its high-speed trains are efficient with excellent service time and three classes of service:
Standard: passengers will enjoy the bar with wine, alcoholic beverages, and soft drinks. Bring your electronic devices that can be plugged into the train's electric sockets next to seats.
Comfort: passengers will enjoy large, cushy seats. There is free Wi Fi and electric sockets.
Premium: passengers can relax in highly cushioned seats. Meals are served at your seat with a complimentary newspaper. Electric power sockets are available. Fast Wi Fi is free.
Thalys trains take passengers on journeys across Western Europe. Stopping in France, Belgium, Holland and Germany, this high-speed train network is a cost-effective and fast way to enjoy the fun and beauty across this region. It operates trains multiple times daily.
Other trains in France
The TER operates for local regional services. The other service is the OUIGO which is an inexpensive train service that runs through and around local cities in France at fast speeds.
There are also Intercités which are SNCF's long distance express rail trains running at 125 mph. Intercités railway travel allows you to ride at the last minute with no pre-booking arrangements, even though you can reserve seating. Intercités is a very economical way to enjoy traveling with lots of luggage room, refreshments, and power sockets. Intercités railway trains operate throughout France with 2 or 3 route destinations for overnight travel.
Buy Tickets
The SNCF and TGV Eurostar train stations are among the most beautifully restored buildings in the world with up-to-date technology. You can buy Eurostar transportation tickets that will match your plans to visit beautiful and historic cities in France like Bordeaux, Marseille, Paris, Strasbourg, the city of London, Belgium, and the Netherlands.
The railway online sites in France feature easy-to-follow rail map legends. On the country's interactive rail map, high-speed rail lines are noted in easy to follow colorful rail lines. The SNCF high-speed rail map system shows clearly defined route designations, and local attractions. Simply click on your destination and website information pops up.
In addition to purchasing train tickets in advance, travelers can purchase tickets from secure SNCF websites and SNCF approved subsidiaries. Each city in France and London feature their own online train station rail map.
Local train tickets are always available, and the cost remains the same. You can simply buy a ticket at any station office or from a self-serve machine.
Express tickets are short distance train rides that do not require reservations. Tickets are always available at any station and seating is available wherever you would like to sit.
All TGV tickets must be reserved. Your seating is reserved, but the prices will vary. However, if you pre-book the prices are less expensive.
| Type of Ticket for Trains in France | Price |
| --- | --- |
| OUIGO TGV Ticket | from €19 |
| Thalys Ticket (e.g. Paris – Amsterdam) | from €19 |
| Eurostar London – Paris | from €44 |
| France Rail Pass (use of all trains for a certain amount of days, starting from 3 days in one month) | from €195 |
Eurail Pass – France Rail Pass
To make your train commutation an easy experience, it is best to secure convenient train tickets better known as Eurail Pass. These rail passes are designed to be used only by international visitors. Europeans ride on a pass known as an Interrail. As a rail pass Eurail must be purchased in advance only.
The SNCF passes are popular with French citizens and other passengers throughout Europe. The SNCF TGV, Eurostar, Thalys train tickets provide passengers passes to regional, country, and continent-wide cities.
When you pre-arrange receiving your passes, visitors will receive a book of passes that provide instructions on any riding route, rules for each international route. For example, there are certain train routes which only have a limited number of railway seats available. You can also travel on high-speed trains between Bordeaux, Paris, London, and other cross-the-border station destinations as often as you would like.
France Rail pass /
Days per Month

Price
3
€195
4
€230
5
€262
6
€291
8
€344
From London To Paris by Eurostar
For example, if you ride on the Eurostar London to Paris or any of the other trains that run every day, you can travel first class. Although this lightning fast train is the only railway train that operates between London to Paris. With great train travel you can receive Wi-Fi connections and the TGV trains provide nursery areas.
Traveling via Eurostar from London to Paris is a delightful 2 hour and 16-minute train trek. This high-speed train will arrive at the Gare du Nord station located in the middle of Paris. You will be traveling at 300kph.
There are no restrictions in Europe when you carry train tickets because all passports are checked before you leave London. If your sole route plans are to travel from London to Paris, you should buy a "point-to-point" ticket.
Travelers can ride the Eurostar route from London to Paris. To see more of the French countryside, you can take the TGV train, running at 186 mph to visit, Marseille, Bordeaux, and Strasbourg.
The cost of a transportation ride along the London to Paris route is £52 one-way or £78 round trip. Yes, you can drink delicious French wine along the way.
Do I Need to Make Seat Reservations?
Yes, for high-speed trains such as TGV, Thalys or Eurostar, a seat reservation. The seat reservation is included in the price of the ticket. If all seats are booked, you have to choose another connection.
What are the most popular train routes in France?
Trains from Brussels to Paris
Trains from London to Paris
Trains from Amsterdam to Paris
Trains from Barcelona to Paris
Trains from Milan to Paris
Trains from Lyon to Paris
Trains from Bordeaux to Paris
Trains from Marseille to Paris
Trains from Lille to Paris
Trains from Nice to Paris 
Trains from Nice to Lyon
Trains from Amsterdam to Lyon
Trains from Berlin to Lyon
Trains from Brussels to Lyon
Trains from Amsterdam to Lyon
Trains from London to Lyon
Trains from Paris to Lyon
Trains from Marseille to Nice
Trains from Lyon to Nice
Trains from Lille to Nice
Trains from Paris to Nice
Trains from Cannes to Nice
Trains from Avignon to Nice
First or second class?
The convenient French trains contain first and second-class compartments. The benefits included in first and second-class accommodations are as follows:
First Class:
Reclining and adjustable seating per person
Plenty of room between seats and wide aisles
Spacious legroom
Round wide tables per passenger
Electric power outlet per seat
Dining meals served at your seat
Free Wi Fi
Second Class
Comfortable open car seating
Medium-size compartments with 6 seats
Large spacious luggage racks
Small round tables
An electric power outlet for every two seats
A dining service car
Occasional Wi Fi service