Germany is very proud of its high-quality, extensive public transportation network. While public transportation is more extensive in the west of the country, you will have access to all of the major cities throughout the country using trains. ICE trains are high-speed trains convenient for long-distance train travel, but you should consider regional connections for closer cities. Trains, tickets, popular routes and the German Rail Pass: Here is everything you need to know about how to discover Germany by rail.
Germany by Rail: Short Info
Trains in Germany – Short Info
Fastest trains
ICE (Inter City Express)
Main train operators
 Deutsche Bahn
Cheapest Ticket
Super Saver Fare from $19,50
Popular Routes

Berlin – Munich (4 hours)
Berlin – Frankfurt (4 hours 10 minutes)
Berlin – Hamburg (1 hour 45 minutes)
Berlin – Cologne (4 hours 30 minutes
Hamburg – Frankfurt (4 hours
Hamburg – Cologne (4 hours)
Hamburg – Munich (6 hours)
Frankfurt – Munich (3 hours 35 minutes)
Frankfurt – Cologne (1 hour 15 minutes)
Munich – Cologne (4 hours 35 minutes)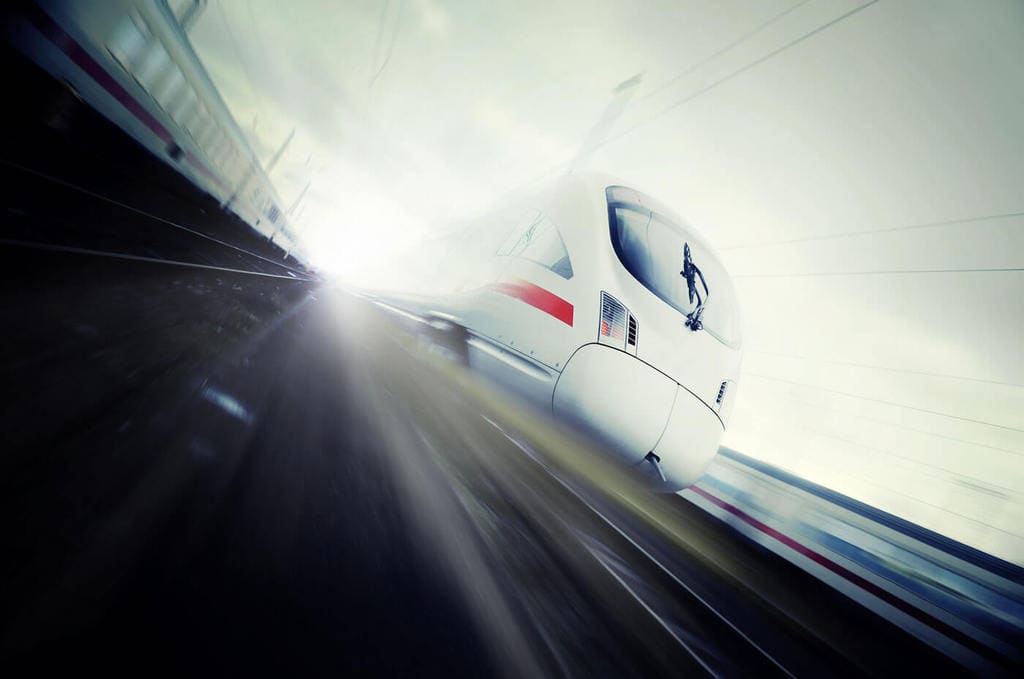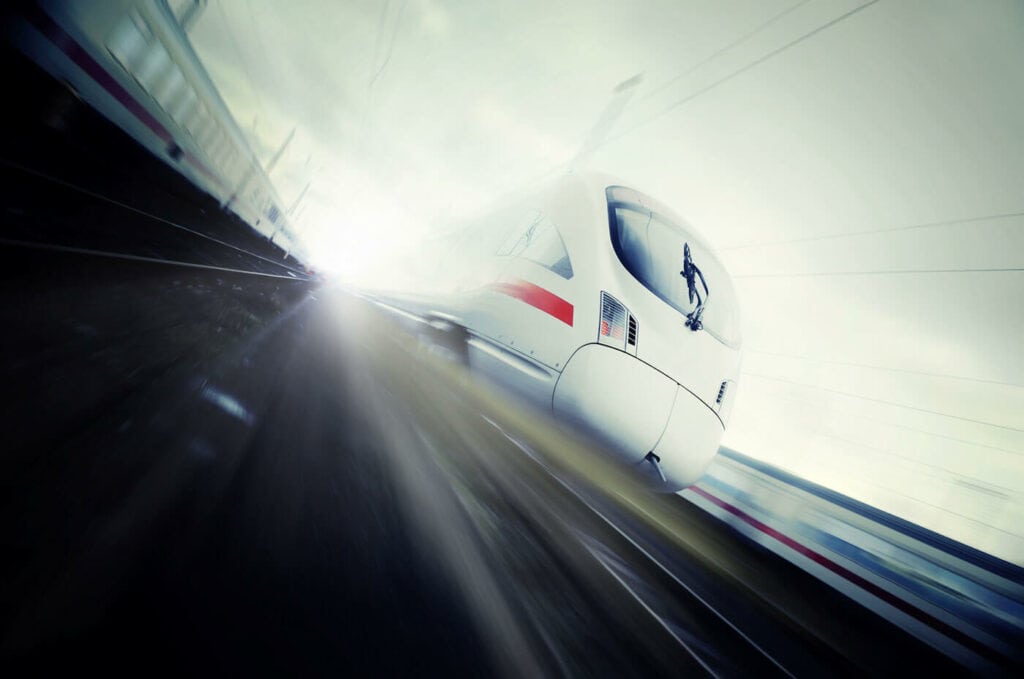 An Introduction to Germany by Train
There are several ways you can get around in Germany, but none can quite compare to the German train systems. Even though Germany boasts about their incredible Autobahn where drivers can drive as fast as they like, the cars will still get jammed up in the major cities and you may be stuck in traffic for hours. (Ergo, the incredibly awesome time you make traveling between cities is obliterated once you enter the cities and become ensnared in traffic!) Parking is a beast, too, because there is not much parking available in most of Europe, let alone in Germany itself.
You could fly between major cities in Germany, but the trouble with this mode of transport is that you have to meander through long lines of check-in, check-out points, and customs if you fly in and out of Germany's borders. Even though it takes an hour or less to fly between German cities, it can take up to four hours to check in and out of the airports. That is not very efficient either.
All of the above reasons are why most tourists opt for train rides. Many of the trains and train stations in Germany double as both inter- and intra-city transit, moving very fast, and not requiring a lot of time to get onto or off of the trains. Trains do not create traffic jams, nor do you need to pass through customs (with the exception of entering and/or leaving German borders).
There are two kinds of trains in operation by the Deutsche Bahn Train Company in Germany. They are the ICE high-speed trains traveling at over a hundred miles per hour, and the regional trains, which travel with less speed but offer a more scenic view of the German landscape. If you have to zip along through Germany just to hit the highlights of your trip here, the high-speed trains are the way to go. If you want to tour several German cities and see many of the regional sights and sites as you go, then the regional trains that interconnect are worth the separate ticket fares. The cheapest tickets are the Super Sparpreis Tickets (Super Save Fare), which are valid also in high-speed trains like ICE, IC or EC. They start from $19,50.
Deutsche Bahn (or DB, as the Germans refer to it) is the primary and best train company with which to buy tickets and ride trains. The company controls a majority of the railways, and therefore is the expert on train fares and train travel.
| Type of Ticket for Trains in Germany | Price |
| --- | --- |
| Länder-Ticket (only valid in one district, e.g. Bavaria or Sassonia and only in regional trains) | from 6,60 Euro |
| Sparpreis (valid also in high-speed trains like ICE, IC or EC) | from 17,90 Euro |
| Discount Card (BahnCard, gives you 25% discount on saver fares and flexpreis tickets) | from 17,90 Euro |
| 49 Euro Deutschlandticket (valid one month on public transport and regional trains, not valid on long distance trains!) | 49 Euro per month |
| German Rail Pass (use of all trains for a certain amount of days, starting from 3 days in one month) | from 153 Euro |
Which Train Ticket Do I Need?
There are several ways to approach train ticket prices. You could wait until the day of your travel in Germany and hope that there are seats still left on the train or trains you need, but most people plan at least a week ahead. Doing so gives you a discount on your ticket(s), which is anywhere from ten to twenty-five percent depending on the train type and train lines you intend to travel. If you wait until the last minute, you will pay full ticket price and you might not get a ticket at all.
If you are just traveling to a couple of cities within Germany, there are two types of tickets you can buy. One is the Sparpreis (literally translated as "sparing price" qnd is called Saver Fare in English), which is a discounted fare.
The other is the Länder-Tickets, which travel over land with a few stops along the way and tend to travel longer distances than just inside city boundaries or between one or two neighboring cities.
The Sparpreis is major discounted. It is a Saver Fare that is really nice, but it comes with a lot of restrictions. You really cannot travel on a different type of train, for a different route, or for a different time. The cost is also non-refundable, something to consider if you are concerned about missing connecting trains.
The Flexpreis ticket gives you the passenger the option of flexible train travel between specific stations. If you miss your train at one stop, this ticket allows you to take the next train headed in the same direction, even if it goes by a different route. The price is full ticket price, which is generally more costly than Sparpreis, but Flexpreis is also completely refundable if you change your mind about traveling at the last minute or realize that you will miss several connecting trains along the way.
Special discounts are offered on both Länder-Tickets and Sparpreis/Saver Fare tickets, and you can buy multiple city passes covering a certain number of days (three days is typical) or just a day pass for unlimited single-day travel to a limited number of cities. You can buy either of these tickets through Deutche Bahn online, or in person once you arrive in Germany.
Deutsche Bahn offers special pass cards too. These pass cards are known as "BahnCards" and offer travelers the option of paying for minutes of travel or days of travel based on where they want to go. Like most European cities, a BahnCard may be purchased online, but you can also purchase a DB Card via a vending machine in most railway stations. The cost for a DB rail pass/card is based on the age, class in which you ride (e.g., first, business, etc.), and level of card (25, 50, or 100, etc.). The least you might pay for a DB card is 17.9 Euros for a "Sample Bahn Card". The most you might pay is 143 Euros for a Sample Bahn Card 50 in First Class.
49 Euro Deutschlandticket: All you need to know
The 49 Euro Deutschlandticket has been valid since May 1, 2023. As a 49-Euro ticket, it is valid throughout Germany on public transport and regional trains and is sold as a monthly cancelable subscription. For the equivalent of €1.63 per day, it can be used on all regional trains, suburban trains, subways, streetcars and buses throughout Germany.
49 Euro Deutschlandticket: Short Info​
Validity Deutschlandticket

valid in public transport: buses, streetcars, subways, suburban trains, ferries
valid in all local and regional trains in 2nd class
not valid on long-distance trains (ICE, IC, EC, ECE) and on the Flixtrain

Booking Deutschlandticket

available as monthly subscription (49€ per month) or annual subscription (588€ per year)
Cancellation always possible until the 10th of the month
available on bahn.de, deutschlandticket.de and via the apps and websites of the regional transport companies

other conditions

no additional persons, e.g. children (separate ticket required)
no bicycles or dogs (separate ticket required, some bicycle subscription offers)
discount on the Deutschlandticket if provided by the employer as a job ticket
49 Euro Deutschlandticket or German Rail Pass?
If you want to travel around Germany, have plenty of time and like to take the train, you can book the 49 Euro Deutschlandticket.
However, because the 49 Euro ticket is not valid on high-speed trains such as the ICE or long-distance trains such as the IC or EC, the German Rail Pass is ideal for all travelers who are only in Germany for a few days and want to cover longer distances. For example, if you want to travel from Berlin to Munich by train, it only takes 4 hours on the ICE – more than 9 hours on regional trains.
In terms of price, of course, the 49 euro ticket is much cheaper: for the equivalent of 1.63 euros per day, all regional trains can be used. The German Rail Pass starts at 153 euros for 3 days' use of any number of trains, including high-speed trains like the ICE. By the way, there is no obligation to reserve a seat in Germany, but reserving a seat is advisable, especially for ICE trains.
Is the German Rail Pass Worth the Price?
Another option, and one which is very popular with tourists who are going to be visiting other countries nearby, is the Eurail pass for Germany, the German Rail Pass. The Eurail pass allows you to use German trains throughout Germany and connect to other European train lines at the borders between nations. It is also referred to as the German rail pass because it allows unlimited travel and unlimited rides all over and through Germany itself.
Eurail is the main purveyor of these German rail passes, so you have to purchase the passes through their website or at a railway train station when you get to Germany. If you really want to travel all through most of Europe and even connect to the Eurostar which takes you from France to Great Britain under the English Channel, consider purchasing add-ons to your long-distance train tickets via the Rail Europe train travel ticketing stations. You could buy many a rail pass for other countries besides the German rail pass, but that depends on where you plan to go and which countries you plan to see. If your primary travel is going to be in Germany, and your extended travel is only limited to two or three other neighboring countries, a Rail Europe pass may be all the extra train tickets you need.
German rail pass /
Days per Month

Price
3
$272
4
$292
5
$312
7
$383
10
$494
The current price for a German rail pass is 275 U.S. dollars. That price per person may seem steep, but considering how much travel you can do and how far you can go the price is worth it. All you have to do is show this pass at a train station to a ticketing agent in any of thirty-five countries and you will be granted access to the train departing at your chosen time.
Even more amazing are the additional discounts and travel benefits offered and tied to each of these rail passes. You are given discounts to many attractions in many cities and multiple countries, as well as shopping and dining discounts, a true traveler's dream. It extends the benefits of your BahnCard, your Deutche rail pass, your unlimited travel card, your Saver Fare card, and even your Länder-Tickets. It is one giant super-beneficial train transport package ticket all-in-one.
Consider purchasing this online ticket before you depart from the U.S., and within a few weeks of departure if you want to print your online tickets or have them shipped to you via mail. In fact, it is a very good idea to contact Eurail or DB (Deutche Bahn) a good month prior to leaving the U.S. to have your BahnCard, German rail pass, long-distance Rail Europe, or other train tickets far in advance. Then you are guaranteed to be a passenger on any train leaving from any station and booking is so simple when you do it online.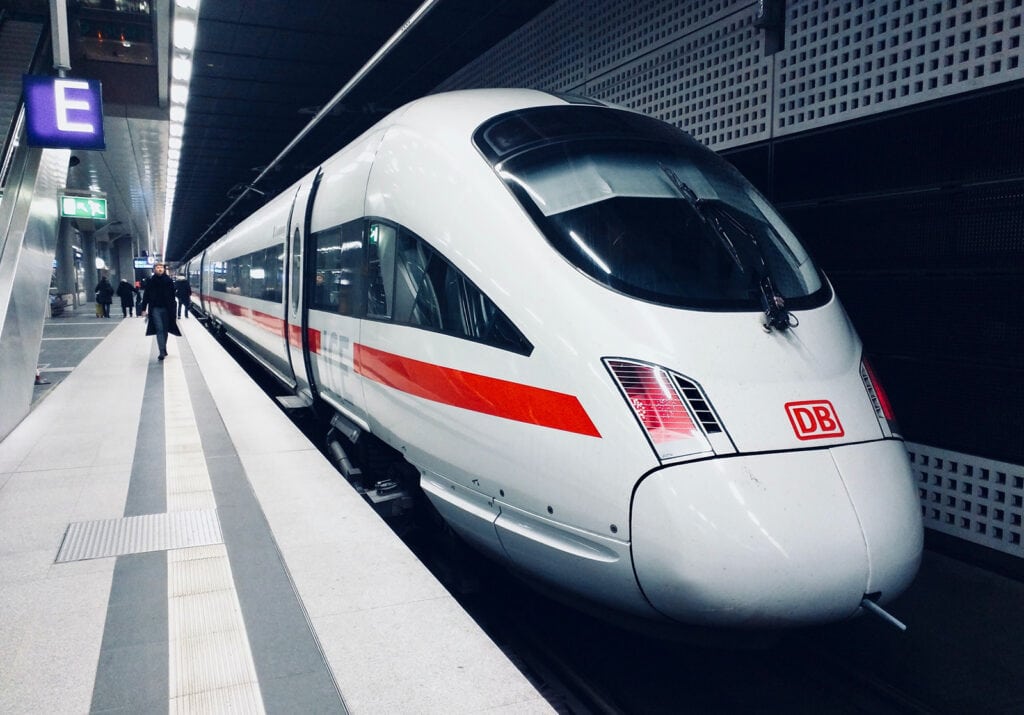 The Deutsche Bahn: Germany's Principal Train Company
The Deutsche Bahn is the German InterRail train system. The fastest European train in Germany is the ICE train. The ICE train offers electrical outlets at the seats, free Wi-Fi, meals, and special locations for quiet train travel. There are a number of different ICE railways with the ICE Sprinter being the fastest.
Deutsche Bahn or DB is the main railway in Germany. It has all sorts of interconnected transports by rail, including commercial lines that transport goods and products instead of people. Additionally, Deutsche Bahn (DB) manages regional trains and national trains so that your passenger train tickets come with multiple rail options.
The trains under Deutsche Bahn's control include the ICE trains, intercity trains, EC trains and the regional express trains. ICE is short for "intercity express," and is the fastest train transport you can take between major cities. You should consider purchasing a Bahn Card or German rail pass so that you can take full advantage of the ICE trains. The ICE trains cut travel time almost in half.
Do I Need to Make Seat Reservations?
Seat reservations are rarely required, with the exception that you may need booking for seat reservations on First Class, or you want absolute assurance that you will get on a specific train at a specific time. Traveling off-peak is highly recommended, since the trains are mostly empty later in the morning to early afternoon or evening. If you travel earlier in the morning or later in the afternoon, these are peak times and you really should consider booking seat reservations then.
Which Travel Times Do I Have to Calculate Between Major Cities?
If you are going to be on a tight travel schedule, and you are running from city to city while on vacation, you should plot out your travel times ahead. It will help you determine how much time you have when you arrive in a new city in Germany for the important highlights in that city. Most major routes have several stops along the way, with start to finish routes ending between one and six hours.
There are a number of different types of trains available. First, there are trains that connect the distant regions. There are express regional trains and regular regional trains. Some of those connections include (with express times):
If you are heading into any one of these major cities and need to travel on to the next major city immediately, you can use the above travel times to figure out how long you will be on a train. This would be considered long-distance travel, especially if you have to get off in one city and get on another railway to get to your final destination.
5 tips how to buy cheap train tickets for Germany
Traveling off-peak times is key to saving money on your rail pass, standard intra-city pass, your German rail pass, your unlimited travel pass, your DB or Deutsche Bahn Card, and any other train tickets you wish to acquire. However, traveling as a passenger by rail means that you won't always be traveling off-peak. There will be times as a passenger on the rail lines that you will be traveling with Deutschelanders who are commuting to/from work or school, and that means being prepared in advance.
You can book an online ticket for rail travel for a number of rail travel products. This is the smartest option since you can look up various rail discounts offered on these products and when the discounts are allowed. No one product allows you to book more than 180 days in advance, not even a DB or Deutsche Bahn Card. A basic rail card for a single day or a German rail pass for four days of rail travel is best acquired a couple days to a week beforehand.
Point-to-point travel is best managed using the Saver Card for single-day use. The Saver Card is essentially a one-way price purchase to travel to another city where you intend to stay for a few days. Remember that it is offered by Deutsche Bahn and to purchase it from DB through their website or through a DB station when you arrive in the country.
If you are staying longer than a week, a discount card (Bahn Card) is the smartest rail pass purchase. Given the discounts offered by DB for these cards, you can save a lot of money on pass purchases with just the purchase of a Deutsche Bahn Card.
Exploring the countryside regionally is best done with a Länder-Tickets pass. This regional pass limits your travel to just the region or counties within a specified region, but it is still a valuable pass in terms of saving money. As far as any rail pass goes, the Lander pass is best for passengers who are just visiting a single major city or family within a particular region. Traveling anywhere else requires a different sort of rail pass, and which rail pass you choose depends on your own needs and your budget.