Train travel is an exciting encounter in Spain. It is more of an adventure than just traveling from one station to another. Do you cherish the panoramic view on transit? There is a beautiful scenic landscape along the journey that will make the traveling experience better and relaxing. Also, high-speed trains, escpecially between Barcelona and Madrid, are reliable and fast to take you to your destination effectively and conveniently. Spain boasts of one of the unique train systems in the world.
Train Travel in Spain: Short Info
Train Travel in Spain – Short Info
Fastest trains
Renfe AVE
Main train operators
 Renfe
Cheapest Ticket
Tickets from €7
Popular Routes

From Madrid to Barcelona
From Barcelona to Madrid
From Barcelona to Valencia
From Madrid to Seville
From Seville to Cordoba
From Madrid to Lisbon
From Madrid to Paris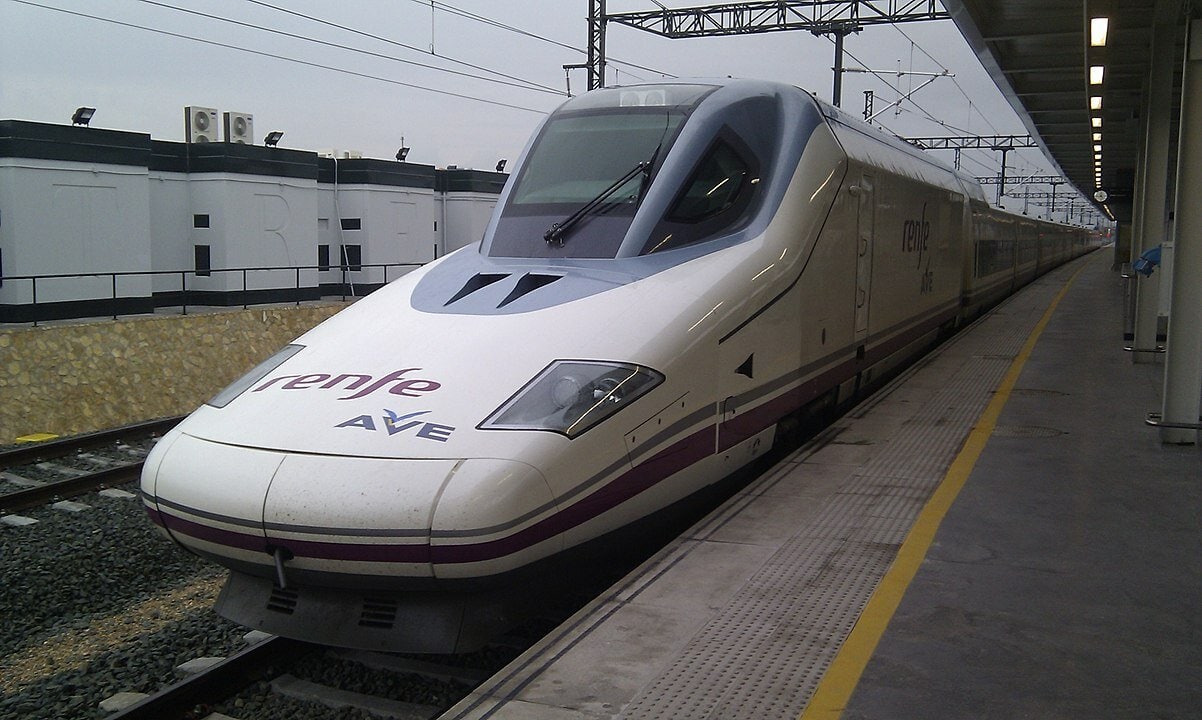 An Introduction to Train Travel in Spain
Train travel allows you to tour the country of Spain and view its magnificent physical features. You travel easily with the modern and complete transport network. Generally, the train network system is the largest in Europe hence the high popularity among the people living in cities like Madrid, Barcelona, Seville, Malaga, and Bilbao. With Eurail passes, traveling is affordable with fantastic promotions.
The Spanish high-speed trains connect the top cities in the country and other cities around Europe. The cities in Spain use this type of travel because of its convenience and the ability to carry a very high number of people. Most Spanish cities are crowded, and getting in and out is a big hassle.
You will find out the top providers and train companies in Spain, the routes, and train tickets. Also, find all the information you need to know how to book your train tickets, get special services while on travel, and seat reservation procedures. Also, find quality information on using your Eurail pass.
If you want to discover more of Europe by train, read our full guide How to rail Europe or, when it comes to tickets, our guide to European Train Tickets.
Renfe – the Spanish Train company
Before you embark on using train travel, it would be best to get familiar with the top providers and utilize the most appropriate service. The country has a primary train travel provider known as Renfe. It operates nationally. Is it a monopoly? No. Another significant and popular train provider is Renfe Ave. The latter has partnerships with a France corporation known as the SNCF. It helps them to create a harmonious way to have international travel to France with direct routes.
Renfe provides trains that travel across the whole country, reaching the rural regions of the country. It also has services on commuter routes and high-speed trains that cover long distance travels.
Renfe is an ancient train service provider in Spain. It was established in 1941 as a national train provider, a position it has held ever since. With new modern commuter links, high-speed AVE providing intercity links, and regional rural lines, it holds a perfect place in Spain's transport sector.
Its routes all over Spain are estimated to be about 15,000 kilometers of railways. The train tickets are also very cheap and affordable for any passenger. There are discounts and offers provided to make the process even smoother and more straightforward.
Renfe AVE – high-speed train network
Renfe AVE (Alta Velocidad Española), which collaborates with SNCF, continues to offer long-distance high-speed trains that connect major cities. The AVE routes are:
Seville
Barcelona
Valencia
Toledo
Cordoba
Malaga
Bilbao
The most popular route by AVE among travelers is the route from Madrid to Barcelona. The route is regarded as the busiest domestic route in Spain.
The Renfe AVE high-speed train is essential to anyone going to work and their significant cities' daily activities. It is fast and convenient hence making it the most used service in Spain.
Equally important, the major cities where the international routes come from are Madrid and Barcelona. The trains go straight to Lisbon and Paris, France, while those from Barcelona have their destinations in Montpelier and Perpignan, France.
Renfe Avlo – Low-Cost trains between Madrid an Barcelona
Renfe Avlo is a high-speed train service launched by Spanish railway operator Renfe in 2019. The service offers affordable and efficient travel options for passengers looking to travel between major cities in Spain at a lower cost than traditional high-speed trains.
Renfe Avlo trains operate on the same rail network as Renfe's AVE trains, but at a lower speed and with fewer amenities. Despite these differences, the service offers a comfortable and reliable travel experience, with modern and spacious carriages equipped with comfortable seats, power outlets, and free Wi-Fi.
One of the key selling points of Renfe Avlo is its affordability. By operating at a lower speed and with fewer amenities, Renfe is able to offer significantly lower fares than its AVE trains, making it an attractive option for budget-conscious travelers. In addition, the service offers a range of fare options, including flexible tickets and discounted tickets for children and seniors.
Renfe Avlo currently operates between Madrid and Barcelona, with plans to expand to other routes in the future. The service has been well received by passengers since its launch, with many praising its affordability and convenience.
In conclusion, Renfe Avlo is a cost-effective and efficient high-speed train service that offers a comfortable travel experience for passengers looking to travel between major cities in Spain. Its affordable fares and modern amenities make it a popular choice for budget-conscious travelers, and it is sure to continue to grow in popularity in the years to come.


Cost of Renfe Train Rickets and Its Structure
Have you decided to start using Renfe and want to purchase the train tickets? Any new passenger can feel overwhelmed by the structure of the train ticket and its rules. However, all these regulations are put to ensure the safety and convenience of travel without any compromise.
Many people visit the Renfe website in Spain to purchase train tickets. The process is somehow complicated, and if you have no idea or prior knowledge, it can become very tedious. All Renfe train tickets have similar complexity. The complex nature of the train tickets is a result of the various classes available in Renfe.
There is a long list on the website for the train tickets. The list also has various tarifs for high-speed ticket in the three classes available on Renfe. They include:
Turista
Turista Plus
Preferente
You can get the following tickets concerning the above classes. Note, the prices of the train tickets also differ with the different properties they possess.
Promo ticket: It is used as an offer with a cheap tariff that offers up to 70% discount on the fare. The fare is fixed and non-refundable, and you cannot change it. You are also not able to choose a seat with this type of train ticket.
Promo+ ticket: Also, an offer that gives about 65% discount on the general fare. It is optimized for changing for 20% and even 30% to cancel the original ticket price that you formerly bought. You can make a personal selection of seats when you purchase the ticket.
Flexible ticket: The flexible ticket is expensive but comes with a lot of benefits. You can change it at no cost. However, you will pay a 5% fee of its price when you want to cancel the ticket. You can make a selection of the seat when you purchase this type of train ticket.
Tarifa de ida y vuelta: You can use this ticket when you want a round trip fare cheaply. It is more affordable to anyone than using a flexible ticket. Canceling the ticket will give you 60% of the original price, but you cannot change it at no cost at all. You can choose your seat on this type of ticket. Notably, the name might confuse since a new passenger may think it applies for both to and fro trips. You need to pay for both rounds.
Mesa or Table for 4: When you want to travel as a group, then this is the best tariff to use. Most of the high-speed trains include 4 spaces onboard where two seats face one another. The four seats have discounts of about 60% on any trip. You cannot combine the ticket with others, but you can cancel it to receive 50% of the original fare. The ticket allows for pets on the train without any charges.
How to Buy the Train Tickets in Spain
There are several options for purchasing any tariff you need. They include sites and train stations where you can go to get your ticket physically. However, with the spread of Covid-19, it is vital to purchase your ticket online to avoid crowding the stations.
Using Omio website
It is one of the most popular among every passenger using the Renfe. They sell train tickets at the price of the train providers. They charge a 3% booking fee and accept all overseas tickets. Omio themselves customize their discounts according to the number of tickets; they take €2 for one ticket, €3 for two.
Rail Europe Website
Another option to use is the Rail Europe website. Payment is made in several currencies such as €, £, or $. You will also pay a minimal booking fee for the swift service. The site is linked directly to the Spanish rail system and offers the same prices on the Renfe board.
The service is available for virtually any international country. Ensure to include the age of a baby or infant that you will take on the travel. The train service offers a free ticket for the infant.
Petarbax website
Are you willing to pay in USD? Any passenger using USD can use their website since it is US based and links directly to the Spanish train providers. It is best since a new passenger from the US may not be familiar with the foreign language. Other countries able to use Petrabax include Canada, Singapore, India, and Australia.
Spanish railways website
Visit Spanish Railways for tickets online in Spain. The process is not friendly with a lot of information and is not recommended for a new passenger.
The cost of the Renfe is then full of discounts and promotions. The estimate for any trip is available on these sites. Visit them and make appropriate choices and the perfect selection.
| Type of Ticket for Trains in Spain | Price |
| --- | --- |
| Renfe Avlo | from 7€ |
| Renfe AVE | from €14 |
| Spain Rail Pass (use of all trains for a certain amount of days, starting from 3 days in one month) | from $254 |
Eurail Pass – Spain Rail Pass
To make your train commutation an easy experience, it is best to secure convenient train tickets better known as Eurail Pass. These rail passes are designed to be used only by international visitors.
It is very beneficial to have a Eurail pass when you travel to Spain. There are many cheap passages and discounts with the pass while using private transport such as railways, hotel bills, and other unique offers.
The benefits are offered when you show a valid Eurail pass. You can also make a prior communication with the company on the benefits and tell them you wish to access their services using your Eurail pass. The services are only valid on travel days.
Spain rail pass /
Days per Month

Price
3
$254
4
$295
5
$329
6
$362
8
$419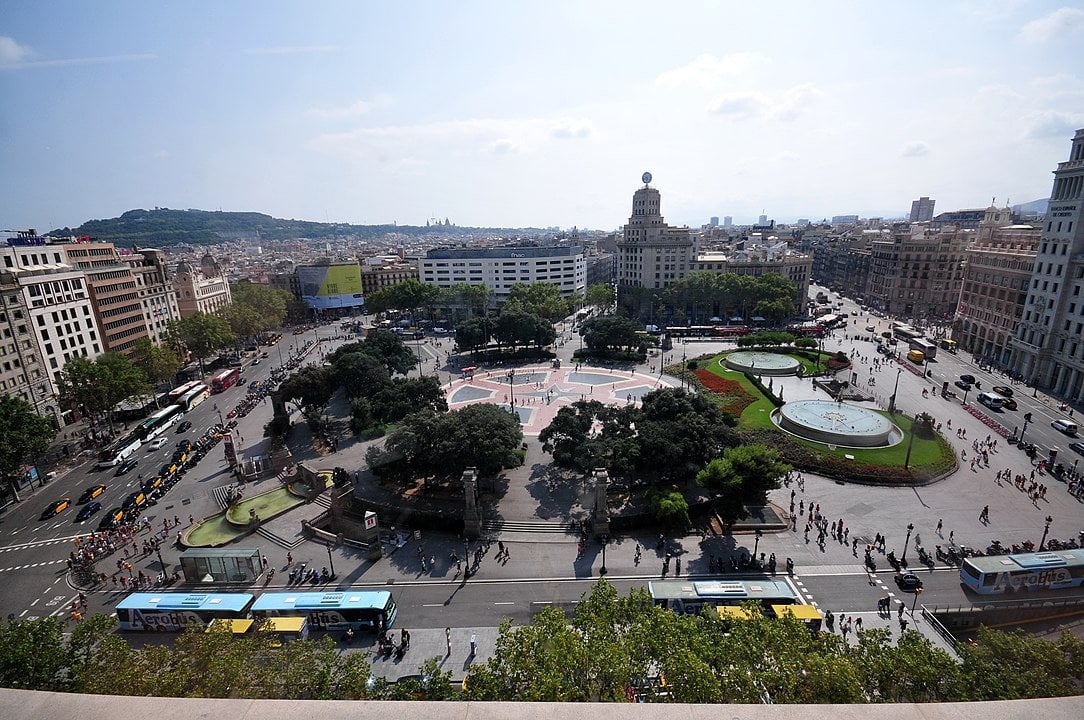 Madrid – Barcelona by train
There are more than 25 departures daily on this route. It is a swift trip which takes about 2 hours, 30 minutes.
This route is one of the busiest routes in whole Europe, with a lot of companys offering train services between Madrid and Barcelona: 
Renfe AVE (Alta Velocidad Española), continues to offer long-distance high-speed trains that connect major cities. The most popular route by AVE among travelers is the route from Madrid to Barcelona. The route is regarded as the busiest domestic route in Spain.

Renfe Avlo is a high-speed train service launched by Spanish railway operator Renfe in 2019. The service offers affordable and efficient travel options for passengers looking to travel between major cities in Spain at a lower cost than traditional high-speed trains.

iryo, the new high-speed train company in Spain, is a merger of the Spanish airline Nostrum and the train company Trenitalia, one of the European leaders in rail transport. iryo is the first private Spanish railway company to operate high-speed trains on the Madrid – Zaragoza – Barcelona route, which will also in future connect Madrid – Cuenca – Valencia/Alicante and Madrid – Córdoba – Seville/Malaga. A fleet of ETR1000 model trains will be deployed, offering maximum comfort when traveling in Spain with a combination of advanced propulsion technology and high quality onboard services, including WiFi access and restaurant areas. 98% of the train parts used are fully recyclable, so your journey is also sustainable!
OUIGO is the "Low Cost" brand of the French company SNCF, which operates in France and Spain. In France, journeys on OUIGO trains are only offered in 2nd class, and tickets can only be purchased online. You also have the option of booking additional services, such as E.g. sockets at the seat, additional luggage or the possibility to reserve your seat in the relaxation area. OUIGO has been present in Spain since May 2021. The OUIGO trains in Spain have an onboard bar service as well as a premium class of service called OUIGO Plus.
Other Popular Train Routes in Spain
Most people in Spain use trains for their transport services. Here are the most popular routes, stations, and journeys that offer the most efficient services. They are always busy with numerous travelers willing to take the incredible trip. Popular routes the train covers include:
From Madrid to Barcelona
From Barcelona to Madrid
From Barcelona to Valencia
From Madrid to Seville
From Seville to Cordoba
The trains also cover international routes such as:
From Madrid to Lisbon
From Madrid to Paris
From Barcelona to Montpellier
The medium-distance travel is Renfe train services that connect the regional routes with the high-speed trains. The major Spanish trains are connected with suburban travel trains that operate within the country.
Renfe also has trains running on international routes to France and Portugal. These international trains originate from the major cities of Spain towards the major international cities.
Madrid – Barcelona
There are more than 25 departures daily on this route. It is a swift trip averaging about 2 hours, 45 minutes, and 3 hours, 15 minutes since the time taken to stop often vary when the number of people changes.
Madrid – Seville
Want to move fast? The train takes an average of 1 hour and 45 minutes. Do not miss your scheduled meeting and travel fast and convenient.
Madrid – Malaga
This trip from Madrid to Malaga takes about 2.5 to 3 hours.
Madrid – Valencia
Move to the third-largest city of Spain from the capital city in about 1.5 to 2 hours.
Barcelona – Malaga
The high-speed AVE takes around 5.5 hours to finish this amazing journey through southern Spain's lively ports..
Train stations in Spain
The most popular train travel stations in the country are:
Barcelona Sants station
Sevilla Santa Justa station
Madrid Atocha station
València Nord station
Your train travel guide for Spain
The train starts in Barcelona.
Casa Mila La Pedrera, Casa Batllo and the incredible Sagrada Familia, all architectural wonders by the brilliant Antoni Gaudi, mixing buildings with nature.
Experience Catalan cuisine and the fine wines of Barcelona.
Visit beautiful beaches on the shores of the Balearic Sea
Your next train is to Valencia.
The futuristic City of Arts and Sciences includes an oceanarium and a planetarium. Don't forget that the rail pass is also a ticket to some museums.
Incredible beaches with miles of golden sand line the coast.
Explore the cobbled streets of Old Town with art shops and restaurants. Get lost in the maze of back streets and shaded squares with odd cafes.
Your ticket takes you to Madrid.
Madrid is the home of Flamenco. Take in a performance. You'll never forget it.
No trip to this great city would be complete without a visit to the Prado Museum, one of the finest art museums in the world.
Madrid has twelve palaces! You must explore a few of them, including the Royal Palace, the largest functioning palace in Europe..
Flash your rail pass and you're off to Seville.
Seville is medieval. Wander the streets of Barrio Santa Cruz to escape into another century.
Enjoy the Mediterranean and Spanish cuisine.
The Real Alcazar de Sevilla is a fourteenth century Moorish castle, known for its beautiful mosaics.
Then visit Malaga with your rail pass.
This ancient port city has a diverse history. The oldest building is the Roman amphitheater.
The fortress on the top of the hill, overlooking the city, is Alcazaba, one of the finest examples of Moorish architecture. Above Alcazaba looms Gibralfaro Castle with the finest views in the city.
Malaga is known for its fine wines.
Malaga is the home of Pablo Picasso. A walking tour will take you from the house where he was born to the museum in his honor.
Do I Need to Make Seat Reservations?
When you buy your ticket for any long-distance train, you automatically reserve your seat. You are not eligible to choose your seat on some tickets; hence they are automatically generated by the service providers. When you are a group, the providers will ensure you get adjacent seats and sit together.
How to Access Renfe WiFi
The high sped trains have WiFi to keep you occupied on the long-distance journeys. The WiFi network is fast and reliable. It would be best to use it since it is included on the price ticket and enjoy yourself along the way. The high-speed services with WiFi include:
Madrid – Barcelona – Girona – Figueres
Barcelona – Seville/Malaga
Madrid – Marseille – Barcelona – Lyon
Madrid – Valencia – Castellón
Valencia – Seville
Madrid – Malaga
Madrid – Seville
Madrid – Bilbao
You use your ticket number to connect to these available WiFi networks. The process involves:
Switch on the WiFi on your phone and select PlayRenfe
You will get a prompt to a signup window and enter your preferred language.
Allow your phone to access PlayRenfe.
Select ticket number and enter the RENFE-SNCF as promotional code when you are using an international ticket.
Key in your train ticket number
Put in your ID