For any family that is looking to take a wonderful vacation travelling throughout Europe, there is no country more beautiful to visit than Switzerland. From the mountaintops to the food, and both the urban and rural culture of the country, Switzerland hands down is the best place to really take in the serenity of Europe. But what really makes Switzerland the best place to visit, is that it is one of the best countries to see travelling by train without even buying train tickets. From the world-famous Glacier Express through the Swiss Alps, to the Bernina Express railway into Italy, even down to basic regional express trains and cable car excursions in Jungfraujoch, travelling Switzerland on railroad tracks is an experience worth pursuing with a Swiss Travel Pass.
Train Travel in Switzerland: Short Info
Train Travel in Switzerland – Short Info
Main train operators
 SBB, Rhaetian Train
Swiss Travel Pass

3 to 8 days in a month
from 195€

Popular Trains

Bernina Express railway
Chocolate Train
Centovalli Railway
Golden Pass
Glacier Express
Gotthard Panorama Express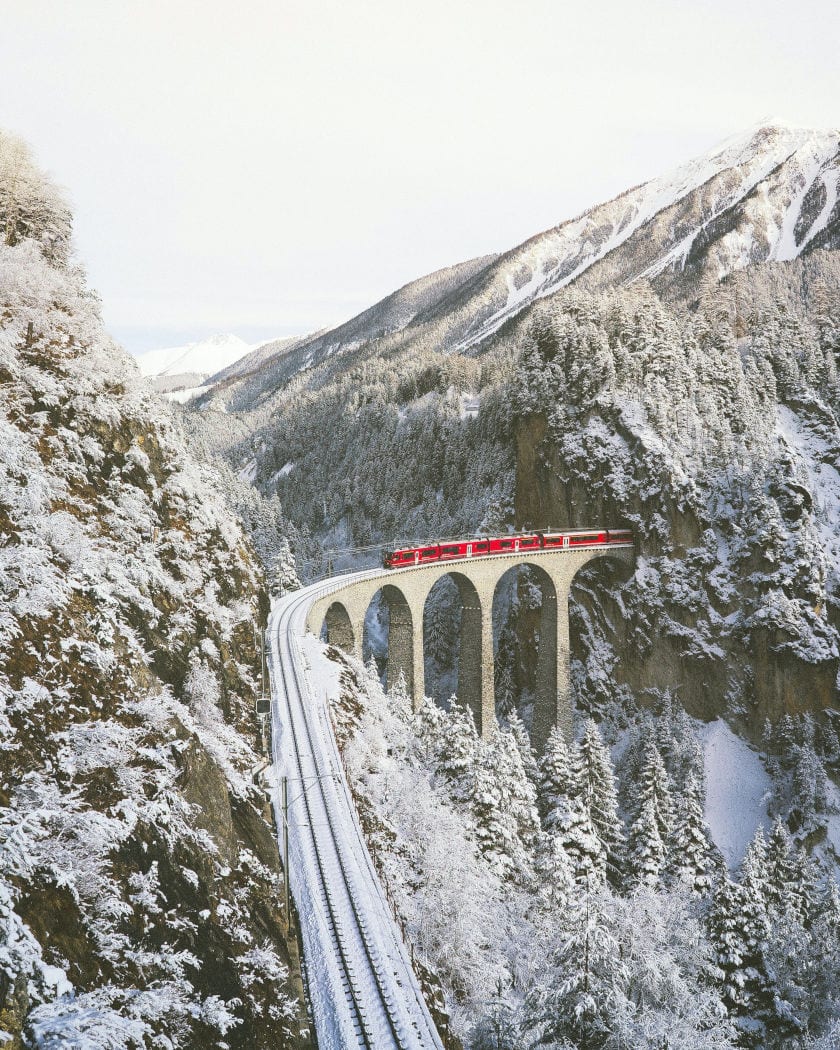 An Introduction to Train Travel in Switzerland
Most people usually enter from Zurich Airport and prepurchase their Swiss Travel Pass, the largest airport in the country. You will be surprised to find that even right from Zurich Airport, you can catch a local train right to downtown, a quick and affordable 13-minute ride. From there you can plan out the rest of your travel itinerary, whether it is visiting the main cities, or hitting the slopes in places like St Moritz or Jungfraujoch.
The train network in Switzerland can be defined as three separate categories: Regional, High Speed, and Scenic rail. The regional train network in Switzerland has five different level of trains services you can choose from, to make any journey necessary throughout the country. These services are the RegioExpress, Regio, InterCity, InterRegio, and the S-Bahn. The high speed trains are more for international travel but make stops in Zurich, Basel, Bern, and Geneva. Finally, there are six Scenic Routes that can act as both a tourist attraction as well to travel throughout the country that all accept the Swiss Travel Pass.
These routes are the Bernina Express railway, the Chocolate Train, the Centovalli Railway, the Golden Pass, the Glacier Express, and Gotthard Panorama Express. Keep in mind most of these routes are not operated by the SBB, but rather private railways. There also additional transit services at your disposal such as cable car, buses, and boats.
If you want to discover more of Europe by train, read our full guide How to rail Europe or, when it comes to tickets, our guide to European Train Tickets.
The Top 4 places in Switzerland
For a person who wants to know what the top places to see for their rail trip itinerary to Switzerland, the recommendation would be Jungfraujoch, St Moritz, Basel, and Interlaken. These 4 places are lesser known more rural parts of Switzerland that are all accessible by rail and take full advantage of the cash value of the Swiss Travel Pass. It is recommended to fly into Zurich Airport, and that you book your Swiss Travel Pass ahead of time. A Swiss Travel Pass can only be purchased in CHF, so you may have to incur currency exchange fees when booking with a credit card.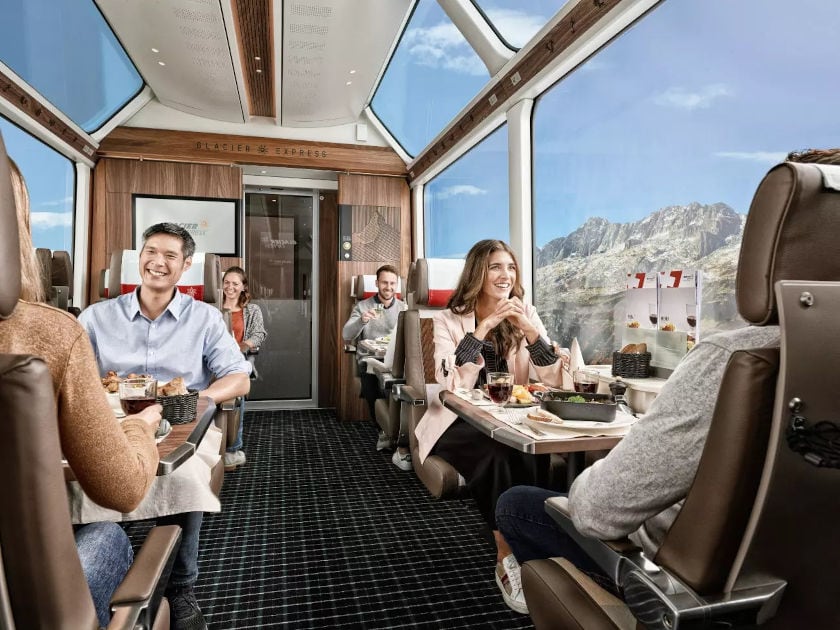 How to travel Switzerland by train
For a person who is new to the Switzerland rail network and needs an easy itinerary to follow, it is recommended to start at Zurich Airport and have your Swiss Travel Pass already purchased and work your way out to the major cities of Basel, Luzern, and Bern. If you plan on travelling further, the main east-west route in the country continues past Bern and travels to Lausanne by Intercity and a transfer to an RegioExpress to Geneva. traveling to Lausanne is a little over two hours and travelling further by rail to Geneva will total three hours. Many people who stay in Switzerland will break up their stay between the two major cities, so that they can visit Lausanne while in western Switzerland, another benefit from having the Swiss Pass.
While there is less known tourist culture East of Zurich, the two main destinations to make are St. Gallen and Chur. St. Gallen is a one hour three stop ride that operates every 20 minutes and can also be a fantastic day trip. Additionally, you can travel to Chur which takes a little over an hour but also operates every 30 minutes. Chur is a great starting point to the many of the scenic train routes throughout southern Switzerland. From Chur, you can take the Bernina Express and make your way down to St. Moritz and Tirano, Italy.
If you are trying to reach other scenic rail routes, there are a few options from Zurich. If you are trying to reach the Golden Pass and the Gotthard Panorama Express, you just take the non-stop trip to Luzern and can meet up with trains right from the station. If you trying to reach the Chocolate Train, you can meet up with it at the other end of the Golden Pass in Montreaux or take a 70 minute train ride on the regional express from Geneva to Montreaux.
To meet up with the Centovalli, your best option is to take an InterCity from Zurich to Bellinzona and then hop an S-Bahn from Bellinzona to Locarno. Finally, if you wish to get to either end of the Glacier Express, your best options are to ride an InterRegio from Geneva to Brig and transfer to a Regio from Brig to Zermatt or take an InterCity from Zurich to Chur and either transfer to the Glacier Express from Chur, or transfer to a InterRegio to St. Moritz.
As far as popular sites are concerned, the main places people want to see are the Jungfraujoch just outside of Interlaken, the Matterhorn just outside Zermatt, and the Swiss mountains, whose best views are along much of the eastern part of the country. The Swiss Pass is great because it enables tourists an all-inclusive package to see these sites.
If you want to see these main sites, then consider the following itineraries. To visit Jungfraujoch, you can ride the Golden Pass to Interlaken either from Luzern or Montreaux. You would then transfer to a Regio that takes you to Grindelwald terminal, and from Grindelwald, you catch a cable car from Grindelwald terminal to Eigergletscher. At Eigergletscher, you will have to walk about 5 minutes to connect to another cable car that will take you to the peak of Jungfraujoch, all these are included with the Swiss Travel Pass.
If you want to see the Matterhorn, you will have to make your way to Zermatt. the easiest way is to make your way to Bern and then hop an InterCity from Bern to Visp, all flawless experience with a Swiss Travel Pass. From Visp, you would transfer to a Regio that will take you to your destination. Unfortunately, there is no cable car that can take you to the peak of the Matterhorn, but there are breathtaking views from the village of Zermatt, or you can either drive or hike to the peak.
Finally, if you want to just see all the Swiss Alps has to offer, it is recommended to utilize your Swiss travel pass to make a combined itinerary of the Glacier Express, the Bernina Express, and a series of buses and regional trains to complete a counterclockwise loop around the core part of the mountain range. You would want to start in Zermatt and ride the Glacier Express all the way to St Moritz. From there you could spend a night and then the next day hop on the Bernina Express and take it all the way to Torino, Italy. Keep in mind the scenic railway routes are not part of the SBB.
Make sure you have your passport if you decide to complete an itinerary outside Switzerland. From Torino, you would ride the Bernina Express bus through the northern hills of Italy but south of the Swiss Alps to Lugano. From Lugano, you could take an S-Bahn to Bellinzona where you can either make your way back up the west side of Swiss Alps towards Arth-Goldau. Alternatively, you can take another scenic train route called the Centovalli to the Italian village of Domodossola, and then transfer to the Gotthard Panorama express that goes back to Luzern. Either itinerary should still give you a please view of the Swiss mountains from the western side of the range. The Swiss Travel Pass is valid for only these excursions outside Switzerland.
Jungfraujoch enables you to get the best utilization of Switzerland's rich history of cable car and one of the easiest ways to reach one of the large Switzerland mountaintops. Interlaken, which you must visit to reach Jungfraujoch, is a perfect small Swiss resort village nearly smack in the middle of the country, easily reachable with a Swiss Travel Pass. St Moritz is a great transfer point to two of the best scenic rail routes in the Glacier express and the Bernina Express railway, as well as a fantastic ski resort to try some world famous Switzerland skiing. Finally, Basel is one of the more underrated cities to visit in Switzerland and is a great place to see if you are not big on tourist trap locations. Basel is great for those who have a passion for medieval Switzerland history.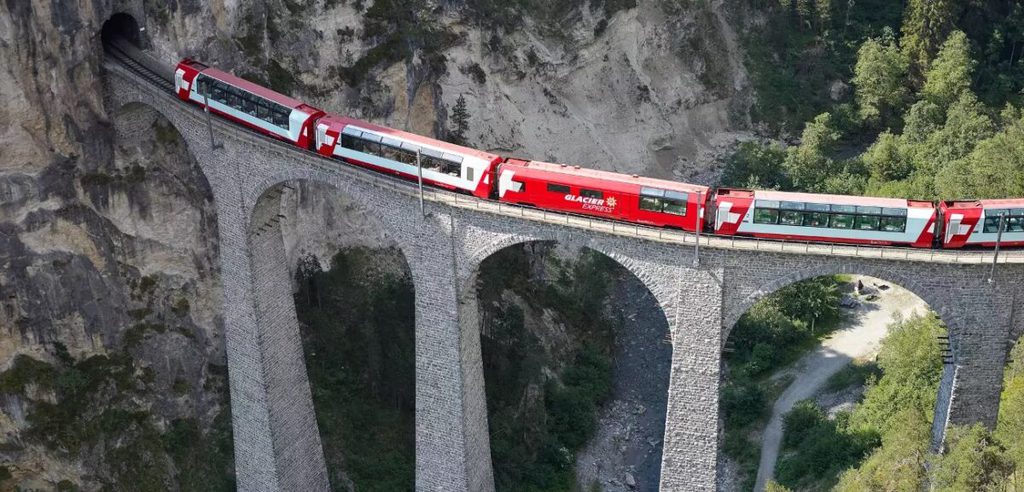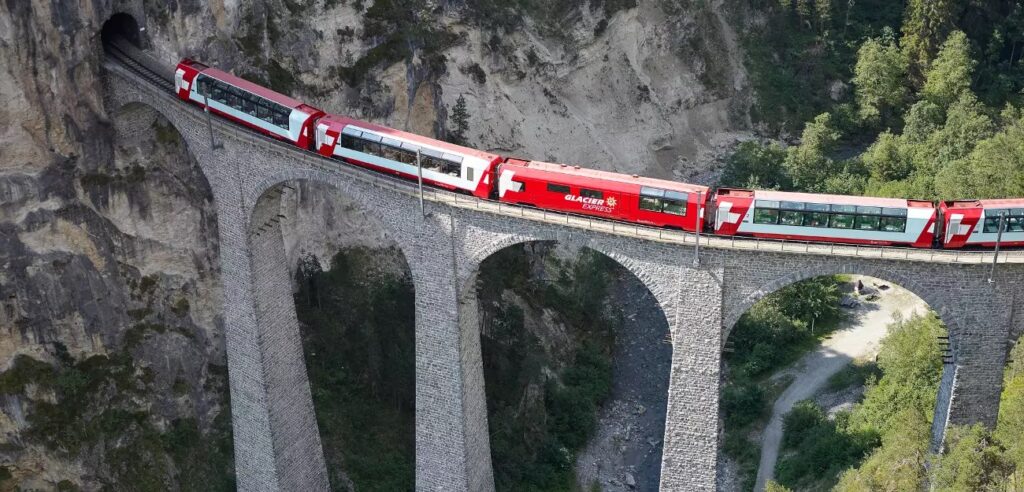 Glacier Express
The 7hour Glacial Express route is a really amazing experience as you get to see the Swiss mountains, and the scene is just amazing. In addition, the train has food and wine that a passenger can enjoy as they make the trip. Their wine taste is highly regarded. A good glass of wine, a nice meal, and an amazing view of the beauty outside is one way to make a satisfactory trip with the Glacier Express.
The Glacier express trains are owned by two Switzerland Railway companies, including the Matterhorn Gotthard Bohn. The Glacier express train covers the route from Zermatt to St Moritz. The Glacier Express moves at an average speed of about 24 km/hr, giving passengers ample time to experience the eye-catching view that the journey offers. The Glacier Express offers the ultimate tourist satisfaction allowing you to have a scenic journey full of enthusiasm and beauty.
Bernina Express
For the typical train enthusiast or one who enjoys breathtaking views of prestigious mountaintop terrain, the Bernina Express in Switzerland is the must experience scenic train ride of a lifetime. Nestled in the heart of the Alps, the Bernina Express from Chur / St. Moritz – Valposchiavo – Tirano is the highest railway in the infamous mountain region and is one of the best international train rides one can participate in. The railway famous for many things such as the Landwasser Viaduct, and is a UNESCO World Heritage Site but more importantly, is a cherished asset of Switzerland.
The Bernina Express like many regional trains in Switzerland rides along the Bernina Railway and is built to blend into the terrain of the Alps. The Bernina Express train is among the greatest scenic train rides, only behind the Glacier Express, and is the preferred train journey to Italy. Your journey can be purchased through either a 1st class or 2nd class ticket, but your experience won't be muted in any way if you choose the cheaper 2nd class ticket.
Swiss Rail Pass
To make your train commutation an easy experience, it is best to secure convenient train tickets better known as Eurail Pass. These rail passes are designed to be used only by international visitors.
When is it recommended to buy a Swiss Travel Pass? It is recommended if you do a significant amount of traveling between cities in the country, that you purchase a One Country Eurail Pass also known as Swiss Travel Pass. A Swiss Travel Pass enables you to have unlimited train, boat, and bus travel throughout the country for one flat rate. In addition, a Swiss Travel Pass enables you to get free admission to over 500 museums throughout the country, free admission to various mountain excursions. A Swiss travel pass allows a passenger to travel in Switzerland for a period of time, usually 3,4,8 and 15 days. You need to make your travel plan well and decide whether getting a pass is the best idea for you. You can get the Swiss travel pass from the SBB website and check prices relating to the Swiss pass. Calculate your daily travel costs comparing with Switzerland passes and make a financially sane decision. The Swiss travel pass can be used also on scenic trains like Bernina Express or Glacier Express rain for the period stated in the past. It saves cost, and you can use the extra cash on something else.
What's the price of a Swiss Travel Pass? The swiss travel pass starts at 232 CHF for a three day 2nd class Swiss Pass and can go all the way up to 810 CHF for a first class Swiss Pass over 15 days. There is also the option of purchasing a Flex Swiss Pass that enables you to travel over select days over the period of a month. If you choose to not to purchase a Swiss Travel Pass, you can buy individual train tickets if you do not intend to travel or tour as much.
What about seat reservations? But be aware! Seat reservations are needed on the Bernina Express. If you want a seat reservation, you will need to arrange for a seat reservation online since seat reservations are not included in the swiss travel pass or rail pass.
In general, you should visit Switzerland today and center your entire journey around the Swiss Travel Pass. The Swiss Travel Pass will get you into museums and discounts on other excursions, but most importantly, it will save you significant money on train tickets, which can cost a lot of CHF over time. It is recommended to utilize cable car excursions as much as possible, and utilize the Swiss pass with as many museums, to really get as much value as possible.
Swiss rail pass /
Days per Month

Price
3
195€
4
230€
5
262€
6
291€
8
344€
Train Companys in Switzerland
The Regional and Scenic railway network is operated under the Swiss National Railway referred to as the (Schweizerische BundesBahn) or SBB. You can visit their website to look up timetables and any information regarding fares and booking train tickets. Additionally, when in Switzerland, you can call their offices or visit one of their kiosks for any information or last minute purchases of a Swiss Pass or train tickets in CHF.
Alternatively, if you are not interested in utilizing the SBB, there are some private railways you could utilize as well. The biggest holding is the Rhaetian Railway, which operates the Bernina express as well as other rail services in the Southeastern part of Switzerland. You can visit their website separately to look up travel itineraries and rates of purchase for a Swiss Pass. It is important to note that while the Swiss Travel Pass does work on these private railways in most cases, there are 10 CHF reservation fees for some of these excursions that are not part of the SBB.