Eurostar is the high-speed train service that connects London to Paris in just 2 hours and 15 minutes. The trains depart from London's St Pancras International station and arrive at Paris's Gare du Nord station, making it a convenient and efficient way to travel between the two cities.
Train London - Paris: Short Info
Train London – Paris
Travel Time
Distance
Trains per day
Train providers
Cheapest Ticket
Good to know

Check-in times prior to departure
Merger with Thalys by the End of 2023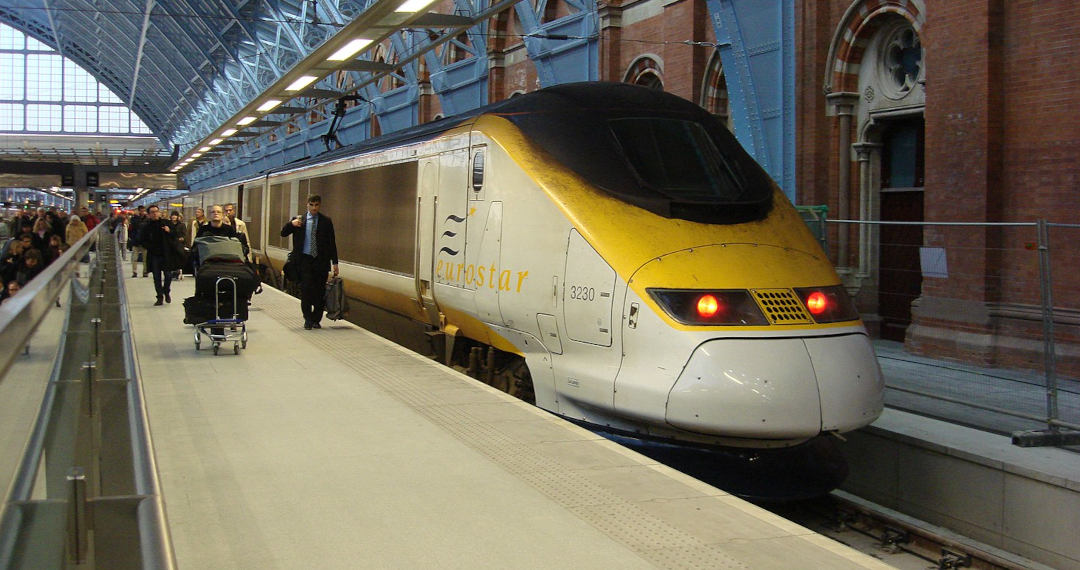 Eurostar – Train from London to Paris
Eurostar is the high-speed train service that connects London to Paris in just 2 hours and 15 minutes. The trains depart from London's St Pancras International station and arrive at Paris's Gare du Nord station, making it a convenient and efficient way to travel between the two cities.
The Eurostar trains themselves are modern, comfortable, and equipped with wifi, power sockets, and food and drink service. The company also offers a frequent traveler program, Eurostar Plus Points, which rewards customers for their loyalty.
The schedule for Eurostar trains from London to Paris is frequent, with several trains departing daily. Journey time is 2h 15min, and there are no passport control or baggage checks which makes it very convenient.
If you want to discover more of Europe by train, read our full guide How to rail Europe or, when it comes to tickets, our guide to European Train Tickets.
London to Paris: Tickets from 19 Euro
One of the best things about Eurostar is the range of ticket options available. There are standard, premier, and business premier classes, each with different levels of comfort and service. Standard class tickets start from 44 Euro one-way, premier class from 149 Euro, and business premier from 250 euro. Prices vary depending on the time of travel and how far in advance you book. Occasionally, there will be special offers and deals, with tickets starting from 19 Euro.
For cheapest ticket prices it is recommended to book your ticket well in advance, up to 180 days before your actual trip is possible. It is also recommended to buy your ticket for less busy days. Busy Friday and Saturday afternoons there are less seats available for a cheap price, so when looking for a cheaper seat, you may want to avoid those times if possible.
Eurostar pricing works in a way similar to airlines. This is why it is recommended to try your best to book your ticket as early as you can, because as the departure day draws nearer the price tends to increase. One-way tickets can reach up to 200 Euro if you choose to buy on the day that you are traveling. For return tickets it is also easier to find your cheapest option if you choose to travel with a Saturday night away in between the days you are traveling.
How to Find Cheap Tickets für Eurostar:  Eurostar train tickets fare may fluctuate as the date of travel approaches. It is advisable to make early bookings when ticket booking dates appear on the Eurostar website. From London to Paris then heading to Brussels a ticket costs around 50 Euro for one-way tickets. Sometimes, connecting becomes the best option, especially when traveling to Brussels. Eurostar cheaper return fares may be accessed on Mondays ad Thursdays at midnight and midnight Saturday. There is a fee charged when travel dates change. It is important to analyze the round trip fares and compare them with one-way tickets in order to help you save a few coins in your journey plan.
Fares for Children and Babies: Fares for babies under the age of four years are free while the rest pay a fee according to their age. Children are only allowed to travel with a guardian present, and for above 12 years, they require signed consent from guardians. The Eurostar website clearly articulates all rules regarding children and baby's travel. Youth fees also apply to children that are aged 12 years and above.
| Ticket | Price |
| --- | --- |
| London – Paris | from €44 |
| Eurail Pass | from €194 |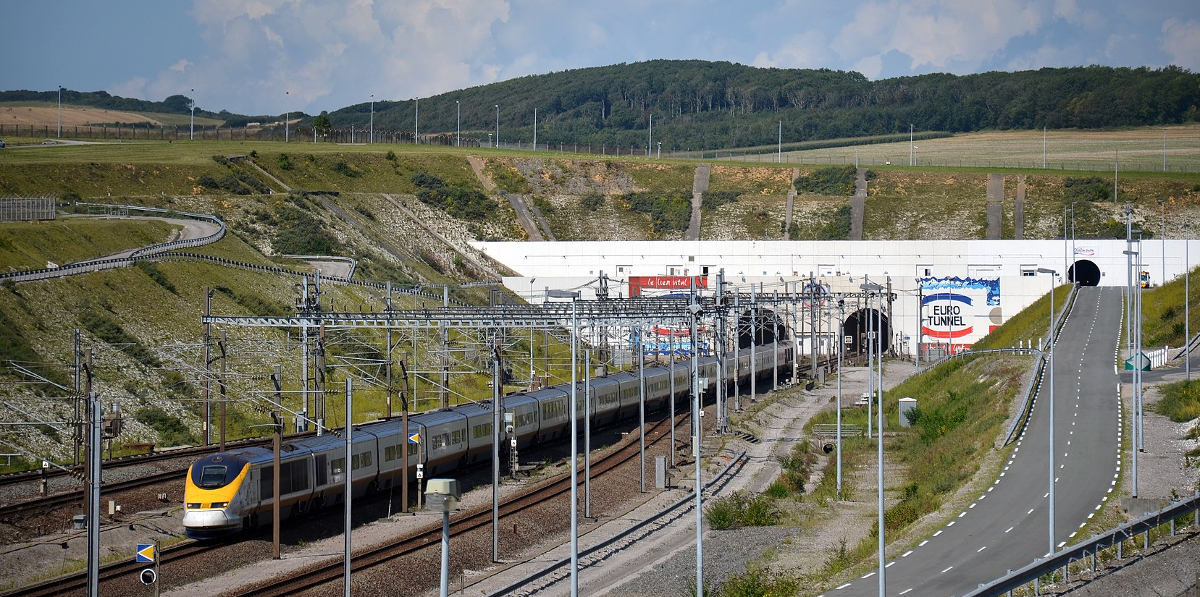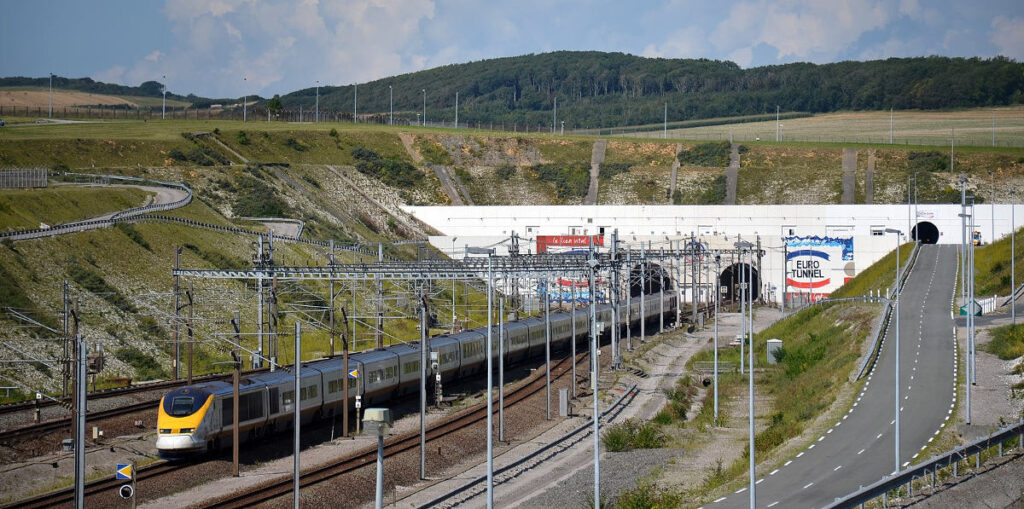 Single Ticket or Eurail Pass?
If you want to rail europe by train, your best option is probably to buy a Eurail pass, which is a ticket to almost unlimited travel.
When you buy a Eurail Pass, you buy a ticket for your segment of your adventure as you are planning to need, all in one. The rail pass is good for almost all train travel in Europe. Most of the time, all you have to do is show the rail pass and you're on board. Some trains do require seat reservations, however, especially the high-speed trains and the overnight trains. 
There are two different Eurail passes:
A Global Eurail Pass allows you to take a train through 33 European countries and to see as much as you can. If your ideal vacation involves experiencing many European countries, then the Global Pass is ideal. The Global Pass will get you from Scotland to Turkey.
The One Country Eurail Pass allows you to explore a single country in depth, from museums, opera houses, theaters, and palaces in the cities, to rolling farmland, snow-capped mountains, quaint villages and medieval castles in the countryside. You can hop aboard a train to travel to another city as easily as you can catch a cab. It all depends on what you want to do. The price for the One Country Pass will vary with the country.
If you have an Eurail Pass, you are required to book a seat reservation for most high-speed trains in Europe. The fares prices are similar for all ages.
| Eurail Pass | Price |
| --- | --- |
| Eurail Global Pass | from $211 |
| Eurail One Country Pass | from $ 59 |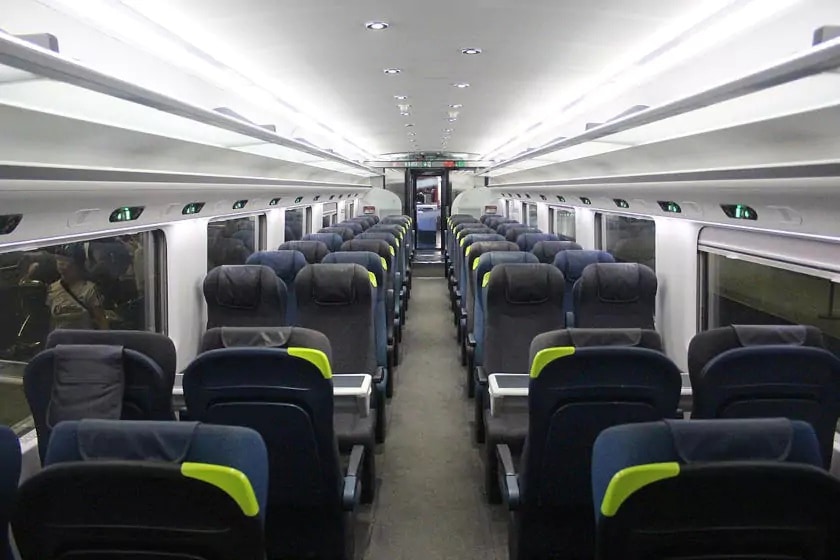 The 3 Eurostar Classes
Standard Class: This s the second class section of the train. This class is equipped with unidirectional seats, tables, and has air conditioning. Additionally, there are power sockets in this class, allowing passengers on the train to charge their digital devices and continue enjoying the marvelous digital world using the WIFI on board this class as well. The seats in these trains are adjustable, and the tables have study lights. The class is tailored to offer the home feeling away from home. The carpeted floors give it a good ambiance and not forgetting how comfortable the class is. In this class, you are allowed to carry food and beverage and also have access to two café cars.
Standard Premier: This class is meant for leisure. The Eurostar tickets prices are adjusted according to the facilities onboard. The class has power sockets and free WIfi signals to enable passengers to have access to their digital world while traveling. This is first class, and it provides passengers with comfortability from chairs, lighting, and tables. The standard Premier is fast with a 2hr journey to Brussels. The trans are tailored mostly for comfortability, and this class is not an exception. With more legroom, you can relax your feet at any angle and adjust your position however way you like on the wide seats available. The class offers a light meal on the journey and both alcoholic and non-alcoholic drinks.
Business Premier: This 1st class business comes with quite some added advantages such as access to Business Lounge in Brussels and London, not forgetting Paris, in France. The class has USB ports on your sits to plug in your device. Additionally, the class has power sockets and free Wi-Fi onboard. The class has comfortable seats and a reading light per seat. Additionally, tickets for this class are refundable. However, the train tickets prices are quite high for this class, given the additional features and accessibility. The 1st Class has access to a variety of beverages ad a hot served meal.
Train from London to Paris – Good to know
From London to Paris by Train – FAQ
Top10 things to see in Paris
Paris, the capital of France, is a city that is renowned for its romantic ambiance, stunning architecture, and rich cultural heritage. From world-class museums to iconic landmarks, here are the top 10 things to see and visit in Paris.
The Eiffel Tower – One of the most iconic landmarks in Paris, the Eiffel Tower is a must-visit destination for any traveler. The tower offers stunning views of the city from its observation deck.
The Louvre Museum – Home to some of the world's most famous works of art, including the Mona Lisa and the Venus de Milo, the Louvre Museum is a must-visit destination for any art lover.
Notre-Dame Cathedral – A stunning example of Gothic architecture, Notre-Dame Cathedral is one of the most famous landmarks in Paris. Although it is currently undergoing renovations, visitors can still admire its stunning facade and intricate interior.
The Champs-Elysées – Known as one of the most beautiful avenues in the world, the Champs-Elysées is lined with shops, restaurants, and cafes. It is also home to the Arc de Triomphe.
The Palace of Versailles – Located just outside of Paris, the Palace of Versailles is a stunning example of French Baroque architecture. The palace and its gardens are a must-visit destination for anyone interested in history and architecture.
Montmartre – A vibrant and bohemian neighborhood in Paris, Montmartre is known for its narrow streets, charming cafes, and stunning views of the city from the top of its hill.
The Musée d'Orsay – Housed in a former train station, the Musée d'Orsay is home to a vast collection of Impressionist and Post-Impressionist art.
The Seine River – The Seine River flows through the heart of Paris and is the perfect place for a romantic boat ride or a leisurely stroll along its banks.
The Luxembourg Gardens – A beautiful public park located in the heart of Paris, the Luxembourg Gardens is a popular destination for picnics, strolls, and relaxing afternoons.
The Catacombs of Paris – An eerie and fascinating underground network of tunnels and crypts, the Catacombs of Paris are a must-visit destination for anyone interested in Parisian history.